Diane Von Furstenberg's "Diamond" Gets Boxed:
The architecture of hard-edged midtown capitalism arrives in the Meatpacking District, signaling the end of the brief "creative class" interregnum.
December 20, 2017
In 2007, Diane von Furstenberg opened a new headquarters building in the Meatpacking District. The DVF Studio, as it was called, was an entirely new six-story structure built behind two landmarked facades on Washington Street and West 14th Street. It was designed to house the company's flagship store, its administrative offices, an executive suite, and a penthouse apartment that –I assume—was a pied a terre at the discretion of the CEO.
Central to the project was a long ascending stairway that ran from the ground floor entrance to the rooftop and opened the interior to sunlight. This "Stairdelier" --as it was labeled by Workac in their initial design renderings-- cut diagonally through the building's section to the roof, terminating at was called the "Diamond," a faceted structure of glass. A series of rotating mirrors placed in the diamond would allegedly "catch" and send sunlight down further into the building.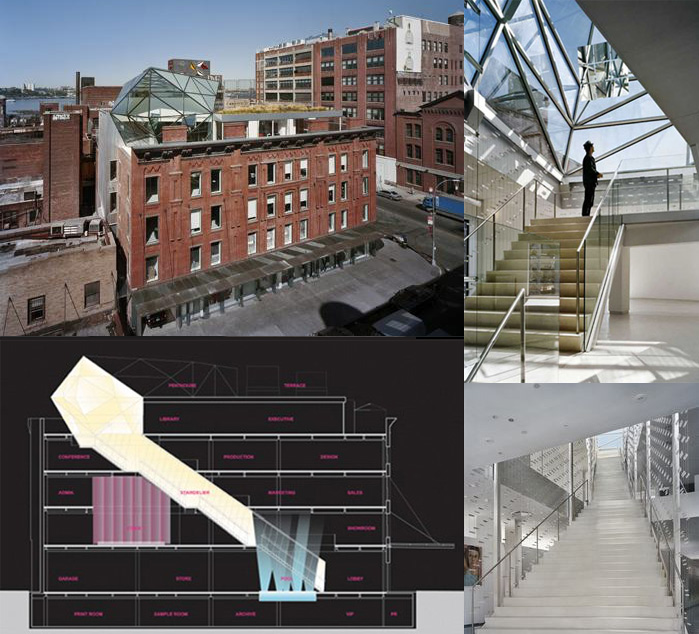 If the Stairdelier was the project's internal organizing principle, the Diamond was its defining urban gesture. It wasn't a hard symmetrical diamond in form –it was blob-like and playful, and it hung on the roof like a glassy carbuncle.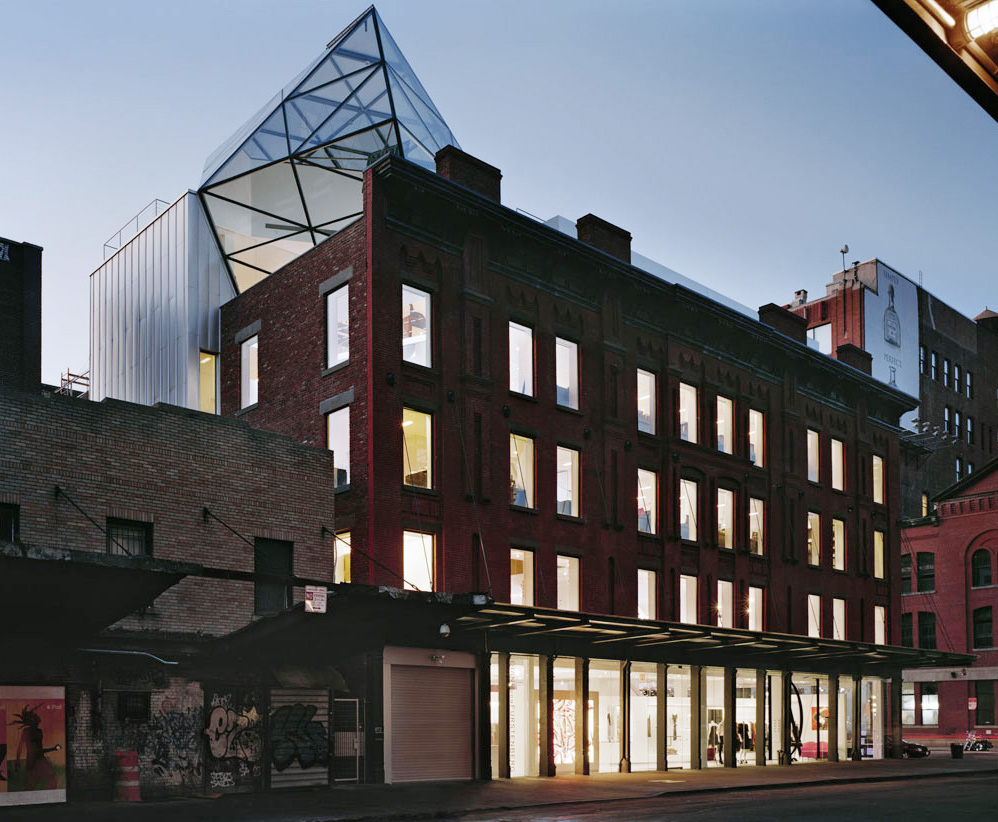 To those of West Village denizens with an eye for architecture, the diamond blob was symbolic of a new era. As a glassy bauble seemingly birthed from behind the worn rusticated old brick façade, the DVF Diamond suggested the full arrival of "high fashion" and "big money" to the dusky neighborhood. And the blob, a context-defying architectural trope culled from the CGI avante gardism of Greg Lynn in the early 90s, was its eager handmaid.
The Far West Village had a long pedigree as a bohemia. The old Bell Lab buildings on Bethune were converted into a vast community of artists in 1968. As early as the 1830s far Christopher Street had become the site of the first gay bar in North America, as well as the first "black and tan," a bar where people of different races could mix comfortably. It can be assumed that America's first leather and S&M clubs were sited there. Highlighted in both Pachino's Cruising and as the home to Glenn Close's deranged Alex in Fatal Attraction, the area connoted the sexual fringe.
Packed with trucks in the mornings, the area was generally desolate in the afternoons. But the furtive gentrification that had started in the 90s with photographer Steven Meisel or faux boite Pastis had become more explicit by 2007. The art and fashion crowds poured in from Soho. When Florent Morellet finally closed his eponymous restaurant the following year he said: "I used to be the light in the middle of the darkness, and now I suppose I am the dark spot in the middle of the light."
The architecture of this interim period was generally respectful of the place –the cobblestone streets, old brick facades and slaughterhouse awnings of Washington Street were all embraced as a way to legitimize the new programming. Even DVF Studio was respectful of the cultural import of the area.
But now there is a new sheriff in town. 860 Washington, the new building build beside DVC Studio, opened this month and may signal the death knell of the recent era of high fashion and moneyed creative-types. 860 Washington is the first ground-up commercial building in the Meatpacking district. This new building has none of the artistic aspirations of the earlier ones of Washington. In its volumetric scale and disinterest for all contextual cues, it sits as a pure corporate imposition. It could have been dropped in from the Ginza.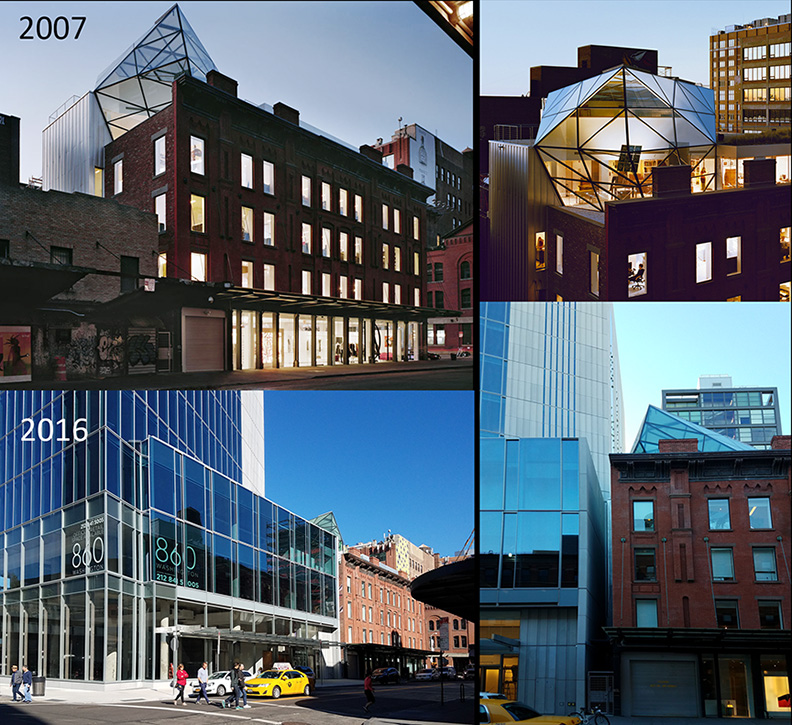 And the roof blob that suggested this first hint of midtown's arrival on Washington Street? It is now almost quaint in comparison. That 2007 symbol of an incipient, spawning capitalism pales before the impassive façade of 860. Instead of the "King of the World" ascendency it enjoyed for 9 years, the DVC diamond is now a boxed jewel. It operates in Cushman Wakefield's ad renderings as something of a captured folly, a nifty backdrop for 860's bland outdoor seating area: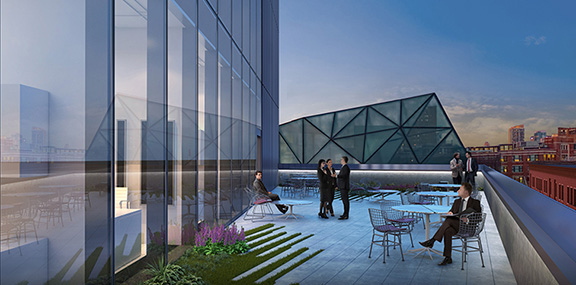 Google HQ:  the Lightness of Being
8/1/2016
Open, sprawling, all things to everyone, and prone to unanticipated problems.   Is Google's new headquarters a metaphor for the Android OS?
Judging by the renderings,  the proposed design is a disappointment. Despite the rarified pedigree of Thomas Heatherwick and Bjarke Ingels, the new HQ is a glorified wrapper that evades seriousness and real world functionality for the passé aesthetics of "blob-atecture."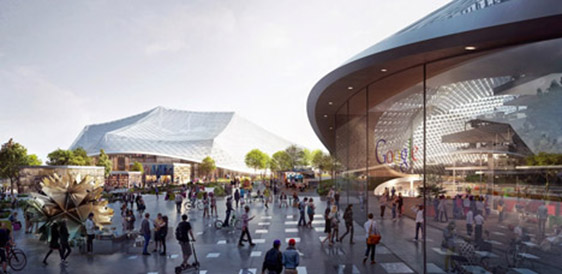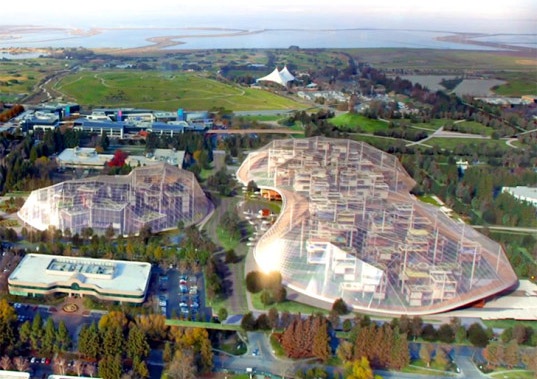 As Bjarke Ingels described it, the glass structures proposed for the new campus would do away with rigid walls and roofs and instead "dissolve the building into a simple, super-transparent, ultra-light membrane." Inside, work environments will be stacked like horizontal blocks, easily reconfigured by in situ cranes, trucks, and robots according to the company's evolving needs. The interior is filled with trees and gardens --an endless summer.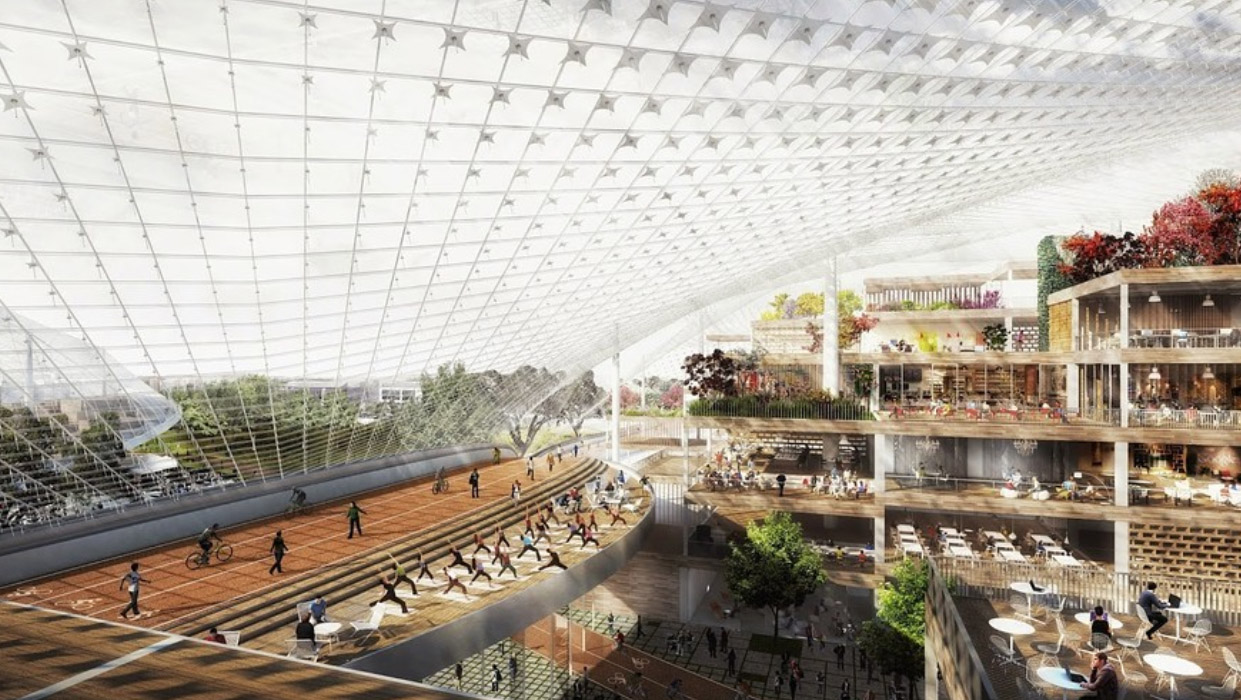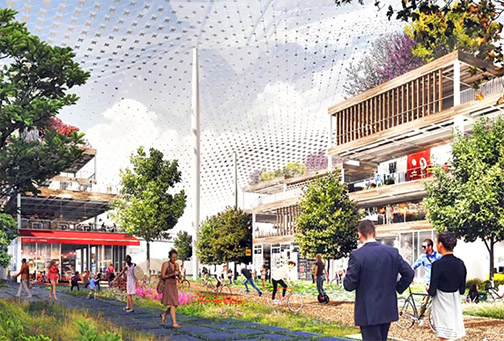 We've heard this before. The architect's rhetoric of functionality and the cell-like biomorphism of the vast membranes are supposed to convey an aura of immediate, thoughtful responsiveness.
More often than not though, when built these types of designs are far less "performative." They are overly-singular in their architectural gesture; those roof structures look far more heavy and burdened than the diaphanous taut lines portrayed in the renderings. They capture heat and stifle breezes: the air conditioning and cooling costs are often myriad. At the level of detail, these roof systems can stain in awkward ways as rain, dirt, and interior dust can pool or cloud glass in ugly asymmetrical ways.
Formally, the design reminds me of a few other projects: the proposed Lucas Museum of Narrative Art in Chicago, the completed Khan Shatyr Entertainment Center, and the Nazarbayev Presidental Library, both in Astana.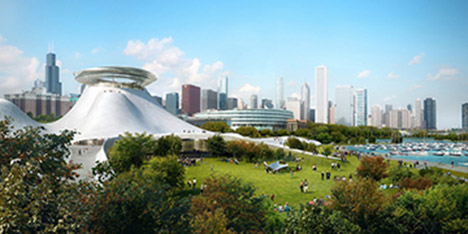 Lucas Museum of Narrative Art

Khan Shatyr Entertainment Center (l) & Nazarbayev Presidential Library (r)
The Lucas project was skewered in the media last year as oversized blob that appeared insensitive to Chicago's high standards. The Center was the more successful. Designed by Foster, that vast tent enclosure is supported by a singular central column and alludes to regional yurt design.  It made sense in Astana where the severe winters on the Kazakh steppes need to be tamed and the city's consumer life could finally continue under the tarp. Northern California has a far more comfortable climate.  But the impression upon arrival is far from transparent (SEE PIC-left). And the more recently completed Library suggests just how heavy these roof systems can look (SEE PIC-right).
The renderings are lush with trees and plants and entourage-rich with people walking, biking, practicing yoga, and even working in vegetable patches.  The people are very front and center.  The building itself is often a mere background element.  The dominant suggestion of the renderings is that the campus is just a new amenity open to the public.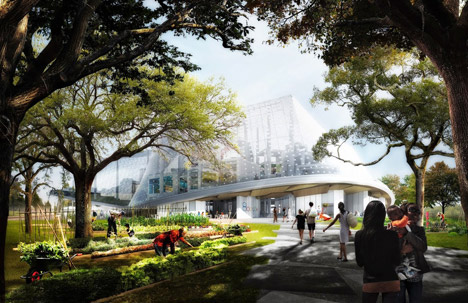 Is this disingenuous? My first impression is that these images are aimed entirely at the public review process. But the more pressing problems of the Silicon Valley area are limited housing, exorbitant rents, and terrible traffic. This mega campus will do nothing but exacerbate those issues.
Hope Center
(New York: 11/20/2014)
The terrible events in Jerusalem this week made me recall a building we worked on last year for Robert Gross of LSDP and Alon Goshen-Gottstein of the Elijiah Interfaith Institute.
The following images are of a speculative architectural design for the Hope Center in the Old City, a new international organization focused on creating inter-faith dialogue.  It is a remarkable institution with a difficult, but important mission.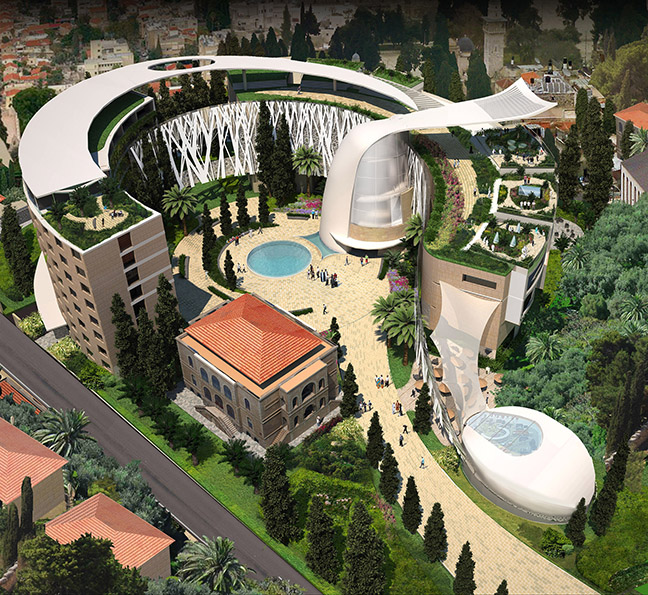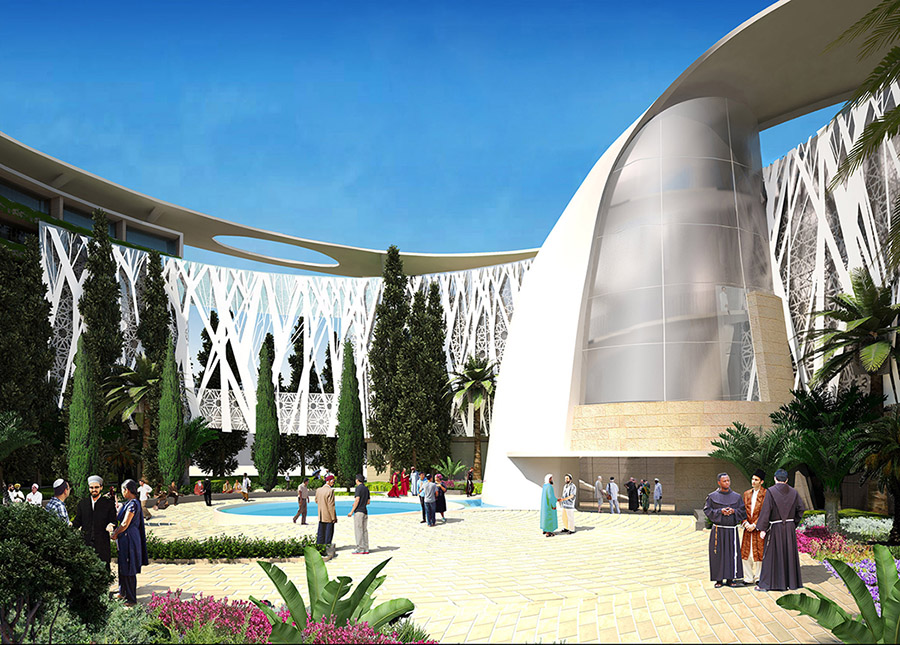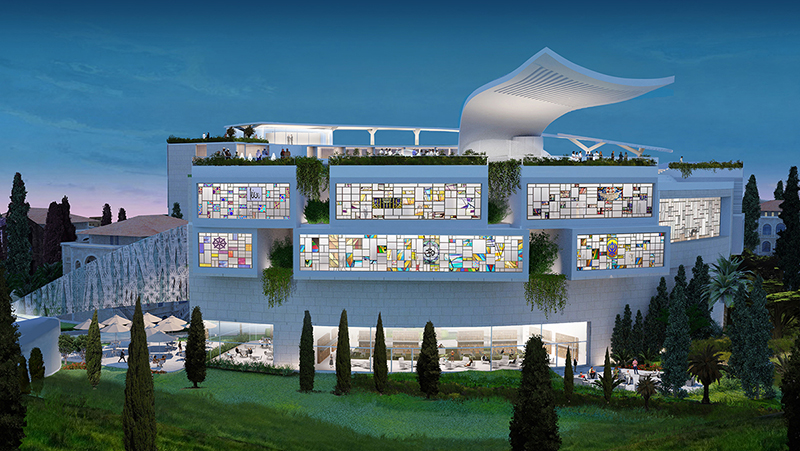 "The kids are all right!" (and they'll take Manhattan)
(New York: 10/15/2014)
Recently we worked with Perkins Eastman on the conversion of AIG's former headquarters at 180 Maiden Lane. The following images show the insurance giant's old space transformed into an thriving urban campus for a regional university. It is an yet another example of how the Wall Street area is diversifying away from a staid financial sector zone that closes down at night to a genuine 24/7 Manhattan neighborhood.  The once formal 70s-era lobby has been re-designed as a more casual sphere replete with stadium seating, a green wall, a cafe, sculptures, and water features.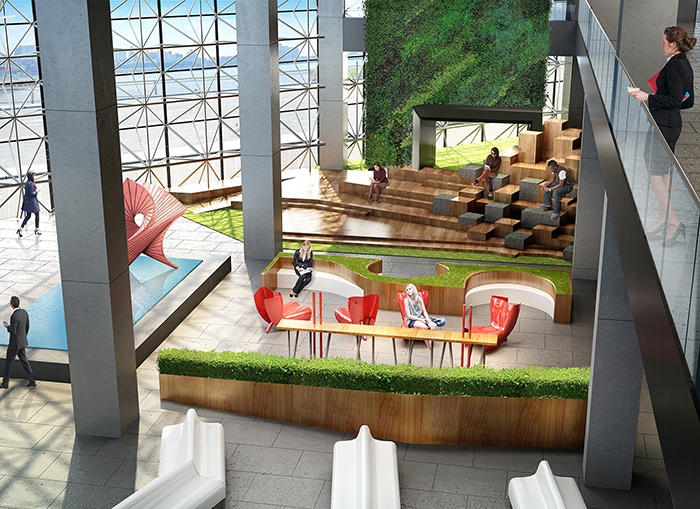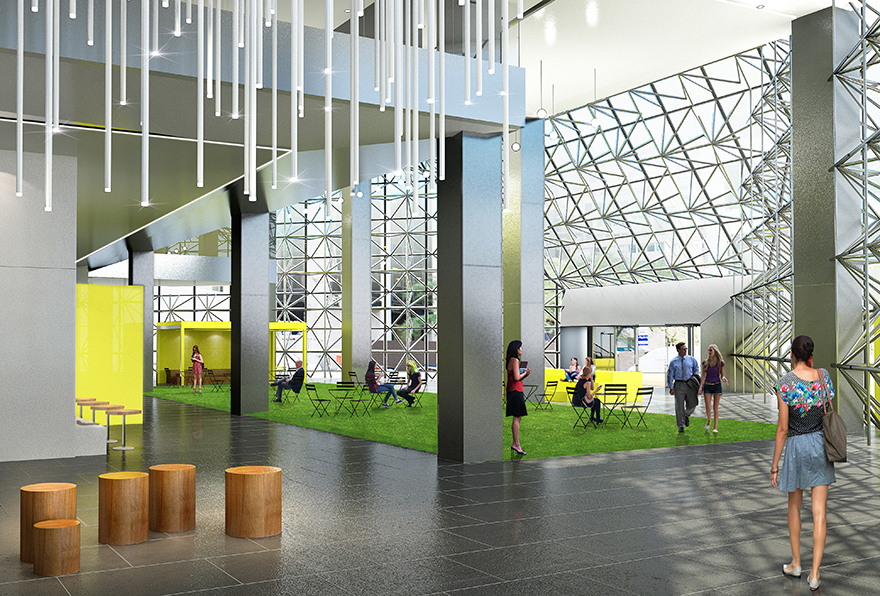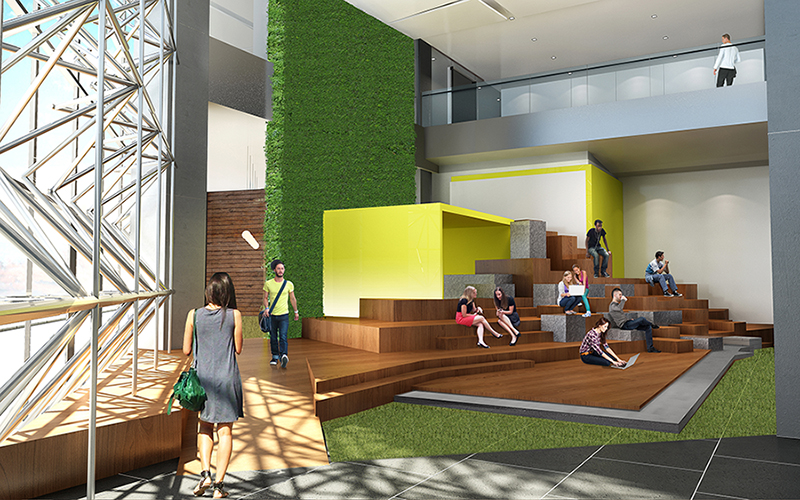 Sony on Mad
(New York: 4/14/2014)
The following is a series of images of our design for the new Sony headquarters on Madison Avenue.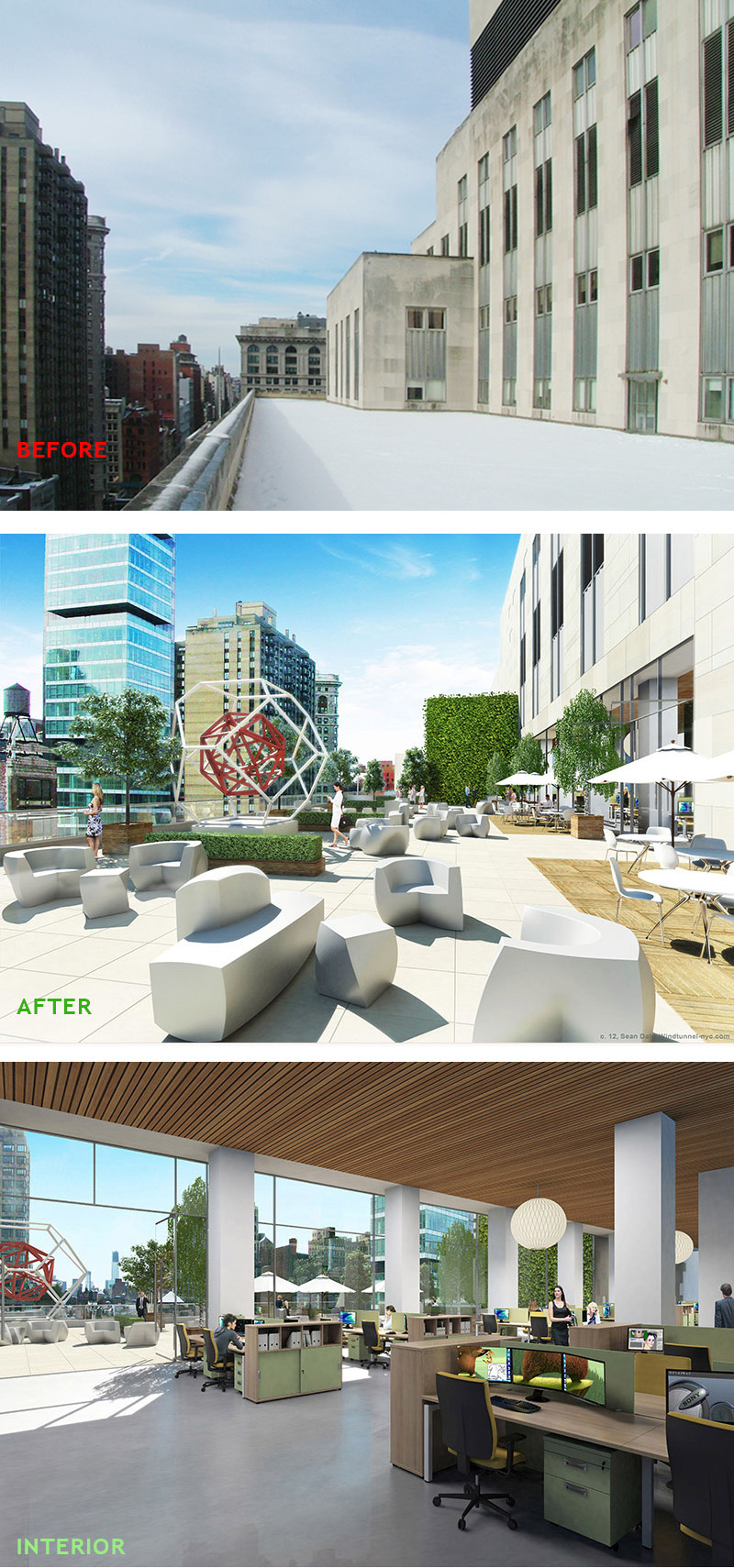 The design is a retrofit of approximately 200,000 square feet of space in the Annex of the MetLife Tower now being vacated by Credit Suisse.    While the MetLife Tower's 700 ft height and clock made it an instant landmark when completed in 1909 by the architect Napoleon LeBrun, its Annex to the south is a more subdued later addition.  It is best known for its crisp Deco lines, beautiful limestone cladding, and imposing presence along 23rd street.
The reason for the design is that Sony wanted to move from 550 Madison Avenue, Philip Johnson's Chippendale building, a well-known icon of early 80s Post-Modernism in midtown.  They wanted a new downtown location that would be more effective in attracting the new media specialists that now reside in Brooklyn. Connected to the lush Madison Square Park and its food trucks, and striding what was once New York's "Silicon Alley," this new downtown location would help Sony create an amenity-rich campus for their NY offices.   The campus would be similar to Google's Port Authority building in Chelsea, a successful office that offers access to the Highline Park and the extraordinary "media-hive" energies and food amenities that come with the Chelsea Market building. Designing the spaces, we were asked to create very open plan offices for the software designers in the upper floors.  We also expanded their day-day experience with a tree-lined lounge patio on what had been an off limits gravel roof.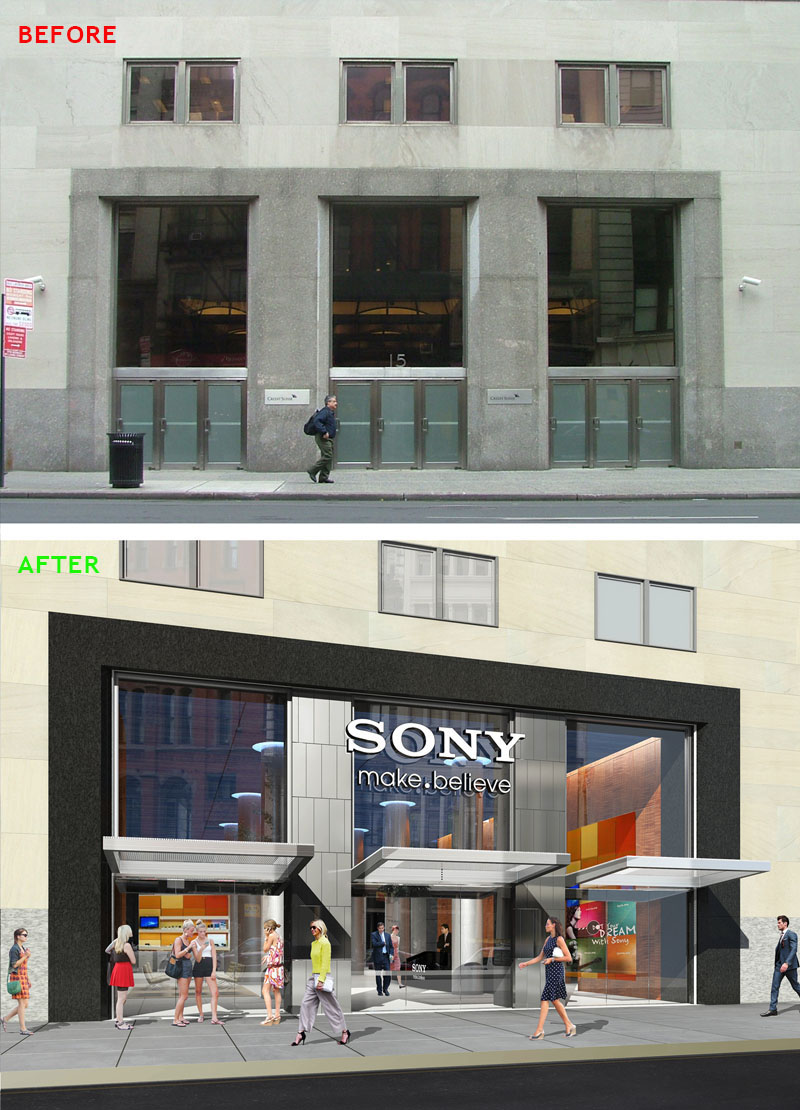 We also turned two access points that had been ancillary in the early design and turned them into central lobbies for a global brand.   The 23rd street doors had been exit doors for Credit Suisse with no guards and no sense of relevance. The existing interiors had been created for Credit Suisse back the late 80s / early 90s.  They had all the aspects one would expect of financial sector office space of that period -- traditional cherry wood finishes and rigid formal configurations, with the public zones rife with faux-Parisian Arcade ceilings and with Mercury Dime doodads.   We opted for a clean, green, unobtrusive design for the offices.  The lobbies would offer up a measure of Japanese minimalism and high-grade finishes with more media to create a strong brand presence.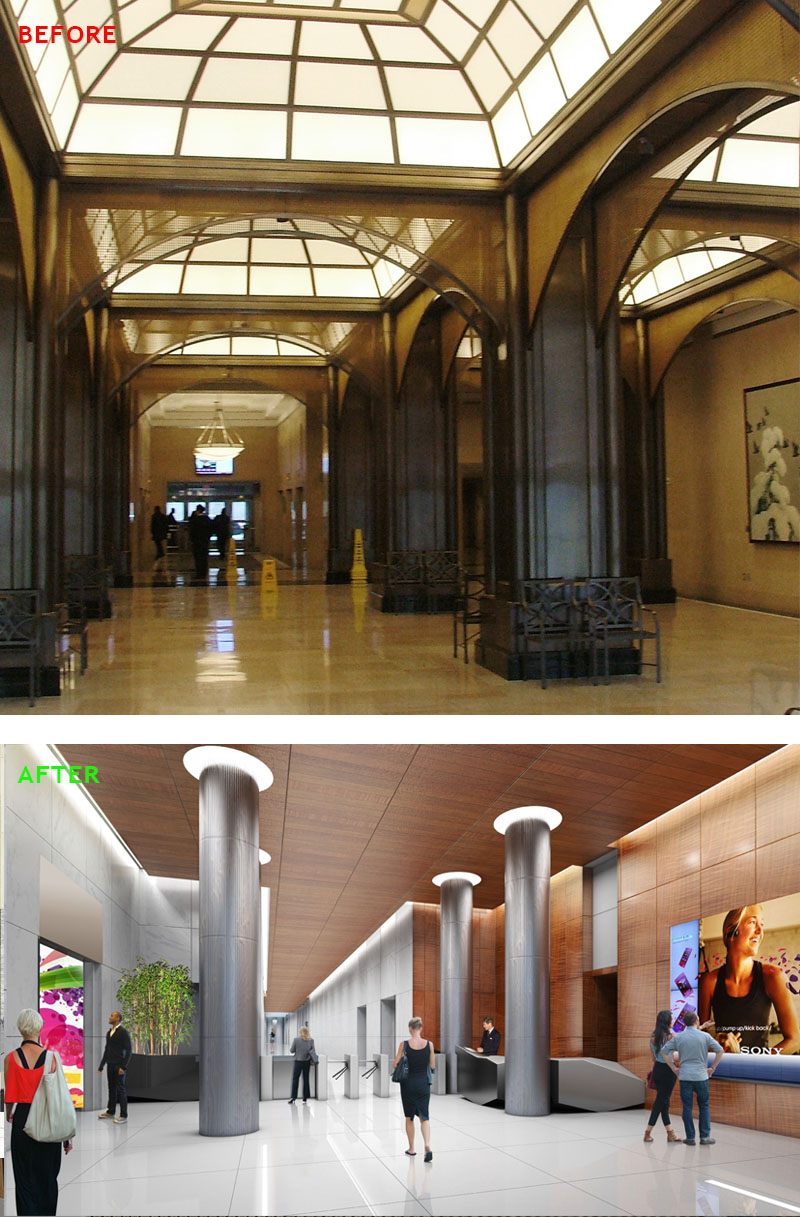 How Would a de Blasio Victory Change Urban Planning in New York?
(New York: 10/10/2013)
Last night New York's recently appointed Chief Urban Designer, Alexandros Washburn, kicked off the publication of his new book The Nature of Urban Design to an "in-the-know" crowd of planners, architects, and financiers.
The book --a bright blend of personal experience, design philosophy, and unique case studies-- is lushly illustrated and goes down easy.   It clearly conveys Washburn's design sensibilities and will probably be effective in popularizing them.  A friend from Sydney had recommended seeing Washburn in person.  The lecture did not disappoint.  He has an intimate speaking style, a strong grasp of the city's history, and a moving empathy for the city dweller.   It may be his most potent weapon in an environment where the political landscape is in flux and real estate speculation is the most celebrated blood sport. But despite the good cheer and general unanimity of the crowd, I was struck with an interesting premonition.
The election this November will likely be the first, real rupture in NYC governance in a generation. Bloomberg's technocratic "soft authoritarian" style is out. Lhota is highly competent and remains a loyal soldier to the style, but there is a palpable groundswell on the left. Bloomberg's Caesarism froze the action for years, but Quinn's quick dismissal by de Blasio's wide outer borough support and pitch-perfect advertising suggests that a different political regime is on the horizon. Bill De Blasio may well be the New York equivalent of San Francisco Mayor George Moscone, another silver-tongued Italian-American politician who carried a broad, pro-union leftist coalition into power back in the mid-70s.    If he wins he will bring a sea change.
How does this larger political struggle color the discourse of urban planning?  The mayoral election seems to share many of the same contours as the debate between Richard Florida and Joel Kotkin, two urban planners who have been duking it out recently in The Atlantic Monthly and The Daily Beast. Together, they represent two distinct sides of the debate about the role of urban planning in urban development. Of the two, Richard Florida is the more famous.  His book The Rise of the Creative Class has effectively influenced the way cities across the nation seek to attract human capital by developing their urban forms.  His primary message is those high-density, "walkable" and aesthetically beautiful cities that are also culturally rich and permissive draw the most educated and creative people.  This in turn raises employment and revenue, as well as the wages and productivity of all residents.   Cities should be designed to be a "strange attractor" for creativity, wealth, and tech incubators.
It starts with a bike path and a music festival and ends with a Google headquarters. In an era of globalization and job outsourcing, this remedy and its suggestion of a new virtuous circle of wealth and aesthetics became the operating meme for planners nationwide. Florida's position was that the role of the planner was to create that kind of city which will attract the Creative Class.   In New York Bloomberg amended this further with an eye for attracting the global rich, blending liberalism with a "luxury city" agenda reminiscent of Singapore. Though perhaps influenced by Saskia Sassen's view of the city as one of world's four Tier 1 financial capitals, the Bloomberg's argument seems to play like this: a few more billionaires in town will raise all boats.
Joel Kotkin has been deeply critical of this approach.   A Chapman University professor of Urban Studies and author of The Next Hundred Million, he has advocated for urban planning that helps working class job security, specifically through low-density solutions that are more family-friendly and popular with the average American. An apologist for suburban living and armed with serious data, Kotkin has criticized the planning community's focus on city core and rail transit.  He believes Florida's drive for density, collaboration and creativity actively disadvantages the poor and clearly disregards the true aspirations of the working and middle class.  According to Kotkin: "Subsidizing downtown developers to build housing for yuppies and being only orientated to industries that simply have very limited opportunities for a huge proportion of the population, it's certainly not going to make the situation better."
Where does Alexandros Washburn stand in the great debate between Florida and Kotkin?   His delight in the High Line district, his declarations on Singapore's achievements in infrastructure, even the general contours of NYC's stated Plan all suggest his sympathies reside with Richard Florida. The High Line is a tour de force of urban intervention, having catalyzed $3 billion in new real estate investment in the far west side.   But it may well be the ultimate Exhibit A for De Blasio's "Two Cities" invective, a 21st century Ringstrasse for tourists and those haut-bourgeois with a taste for high art and pricey pied-a-terres. One journalist has found that the public monies spend on the expensive, rather rarefied project could have build 5 swimming pool complexes in the outer boroughs.  Many of the small-scale industries and businesses that held on in the seedy 25th Street to 33nd Street zone west of 10th Ave have been obliterated over the past five years.  As the Principal at Blackhouse, a NY-based real estate developer recently stated: "The High Line links the Meatpacking District to Hudson Yards, establishing a mega Gold Coast within New York City's residential real estate landscape . . . . .Through this project and many others in our pipeline, we are orchestrating a new luxury real estate market in New York City for the global buyer."
Whereas the design prescriptions of the Brooklyn Bridge Park arguably work to build the no-collar, techie/hipster, "ecstatic capitalist" culture of Richard Florida's Creative Class, the High Line seems to have simply ceded far west Chelsea to the global rich.  A glance at many of the elite towers already built in the area suggests a neighborhood of absentee owners who use the residences for the occasional weekend or as an investment diversifier. This is hardly Jane Jacob's Hudson Street. The average middle class joe may enjoy a walk down the high line, but he can never be a true stakeholder in the neighborhood.
In many respects, the city has been on the same political glide path since Richard Ravitch retooled the NYS Urban Development Corp following Ford's "Drop Dead" speech. All four mayors from 1977 onward have operated along these three trajectories: to assert top-down fiscal control, staunch crime, and attract jobs and wealth back to the core. All three agendas have been accomplished, more or less. "This election is not going to be about crime, as some previous elections were," de Blasio told National last month. "It used to be, in New York you worried about getting mugged. But today's mugging is economic. Can you afford your rent?" Those working class New Yorkers who may have voted for a tough former DA or a technocratic billionaire when they feared nightly muggings or simply wanted the city more governable now are more concerned with economic issues. De Blasio's plans to raise more taxes from the rich appeals especially to the poor and working class --two groups that account for nearly half of "luxury city's" population.
New York presently has the worse income disparities of any city in the nation. Even Florida has been backtracking on his Creative Class message, conceding in a January 30th article in The Atlantic Monthly that the benefits of appealing to the creative class accrue largely to its members—and do little to make anyone else any better off.  The rewards of the "creative class" strategy, he states, after conducting extensive statistical research, "flow disproportionately to more highly-skilled knowledge, professional and creative workers," since the wage increases that blue-collar and lower-skilled workers see "disappear when their higher housing costs are taken into account."  In essence: talent clustering provides little in the way of trickle-down benefits.
During the lecture, Washburn spoke of creating "resilience" in the city, specifically in regards to climate change, storm threats, and sustainability.    But as many working class New Yorkers cope with high rents and wage stagnation, a more economic view of personal resilience appears to be on their minds. De Blasio lives in a compact Park Slope home he bought in 2000 for $450,000. His family of four shares one bathroom. As public advocate he created the "Worst Landlord Watch List, and has been openly critical of market rate development. In a Real Deal article, he stated bluntly that "towering glitzy buildings marketed to the global elite is not the type of development New Yorkers are looking for." It will be interesting to see if the city's discourse on urban development changes if the new paladin of the city's working class is elected.
On Gold Mountain: Lennar and China Development Bank Seek Riches by the Bay / Corcoran Sunshine and Century 21 China Mine the Manhattan Skyline
(San Francisco: 7/26/2013)
Lennar Corp. is looking to re-create the contours of San Francisco's traditionally cramped residential market. A Windtunnel Design + Visualization partner on several projects, Lennar is negotiating with the China Development Bank for a $1.7 billion loan to re-ignite the build-out of Hunter's Point and Treasure Island, two former naval bases at the edge of San Francisco. It plans to build about 12, 500 new homes and 3.5 million sq ft of commercial and R+D space at Hunter's Point, a peninsula to the southeast of San Fran proper. Treasure Island , which is a man-made island set between Oakland and San Francisco, will include at least 8,000 new homes, a hotel, and nearly 310,000 of commercial space. It offers fewer homes, but the architectural renderings suggest a more high-profile development. As the illustrations we provide below suggest, nine 25-30 story condo towers and one 60 story hotel spire will offer pivotal views of the bay. The place may finally live up to its name.
A naval base decommissioned in 1996, Treasure Island is at present an empty, windswept terrain of decayed oil terminals, military buildings, and warehouses. As a distinct location and with a name suggestive of abundance, TI should be attractive to Chinese buyers looking for second homes and speculative investments. The 535 acre site is technically within San Francisco's city limits. It offers unparalleled views of the city and bay. The name even harkens back to a term that Chinese immigrants used for California more than a hundred years ago: "Gold Mountain." The isle is also a strange example of an exciting inflection in the East-West financial tie-up. Big investments in San Francisco residential developments by the China Development bank and the surge in Chinese home buying in Miami and New York point to a new development in US-China economic relations. One unanticipated consequence of the China's economic slowdown is that capital is being directed West. Political volatility on the mainland, a strengthening dollar, and the risk-off financing approach by US banks is creating a new, very profitable venue for the American real estate sector. Now that overbuilding and "hard landings" stalk the mainland, China's wealthy are looking to consolidate international stature and possibly US citizenship in their purchases.  Private family money is  finding its way into the US real estate market. As far as China is concerned, US real estate has bottomed and is now the place to be. Communities in Florida are now actively targeting mainland clientele with wok-kitchens and feng shui design. Manhattan's most prestigious new address, Extell's One57, has been outsized interest from the Shanghai elite. Unsurprisingly, those apartments and floors outperforming in price have the so-called "lucky Chinese number 8" in them.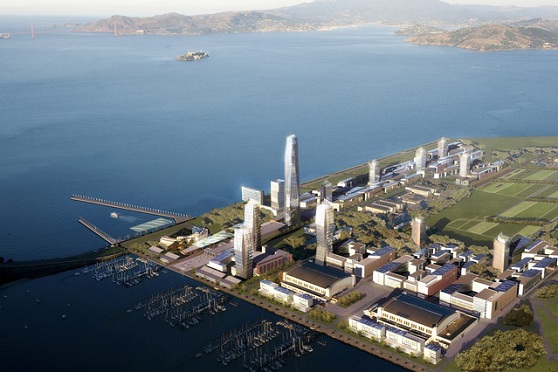 This vigorous interest from the East has Extell raising prices at 90-unit building, with units at near $6,000 per sq ft and a penthouse listed for $110 million. According to says Gary Barnett, president of Extell Development: "There's really nothing like it . . . And nothing's going to get built like it for the next three years. If someone wants to start now, it would be in the ground for three years before it got finished." This opinion is seconded by other experts in the field. In a New York Times article, Kelly Kennedy Mack, president of Corcoran Sunshine Marketing discussed the state of new luxury construction: "There were only five condo projects [in Manhattan] that opened in the first quarter of 2012, totaling 94 units . . . For the second quarter, there should be eight properties, representing 323 units to enter the market." According to Mack, the percentage of Manhattan luxury buyers from China has more than doubled in the past few years. Dolly Lenz, a luxury real estate broker in New York, has stated that at least half of her clients now hail from China, twice as many as in 2010.  This rise coincides with a 7% rise in the yuan versus the dollar during that same time period. This may explain why, as president of Corcoran Sunshine Marketing, Kelly Mack recently announced a partnership with Century 21 China, which is the fastest-growing real estate company on the mainland. The takeaway from all this: expect Chinese buyers to keep a base under Manhattan luxury pricing. Today's Beijing and Shanghai elite are real estate veterans. They are buying across the upper spectrum, from $30 million midtown apartments to $1.5 million studio units for their college age kids. Some of these are "sight unseen." A  short 2011 blog entry by a respected Beijing-based real estate expert is believed to have precipitated a surge in Chinese buying in Harlem brownstones.
Death by Crowd-Sourcing:  The Diminished Role of the Architectural Critic
Last month it was reported that Paul Goldberger, The New Yorker's architectural critic, was decamping for Vanity Fair.  Apparently run-ins over adequate space and a shrinking column sent the Pulitzer Prize winner to glossier shores. Reading the following three articles gives one a good sense of the recent re-positioning of the architectural critic by the major media franchises:
http://observer.com/2011/08/times-art-critic-michael-kimmelman-to-take-over-as-papers-architecture-critic/ http://archrecord.construction.com/features/critique/2011/1105commentary.asp http://www.huffingtonpost.com/2012/04/06/the-architect-critic-is-dead_n_1408530.html
Ironically, at a time when the American public has never been so sophisticated and arguably "interested" in the issues of architecture, landscape architecture and urban infrastructure, the role of the critic is in full retreat. In today's crowd-sourced, digital-niche hothouse, intelligent criticism can come out of nowhere and at virtually no cost.  But the question remains whether the critic's traditional role as a "public intellectual" --one that forced a certain measure of "response" from government, architects, and developers due to their sanctioned standing-- will also evaporate, leaving the general public (if not the blog-centric die-hard arch. crowd) less connected to the issues.
ZEN-OTAPH: STEVE JOBS AND THE MEANING BEHIND APPLE'S NEW CAMPUS
Apple's new campus in Cupertino has left the design community a bit perplexed.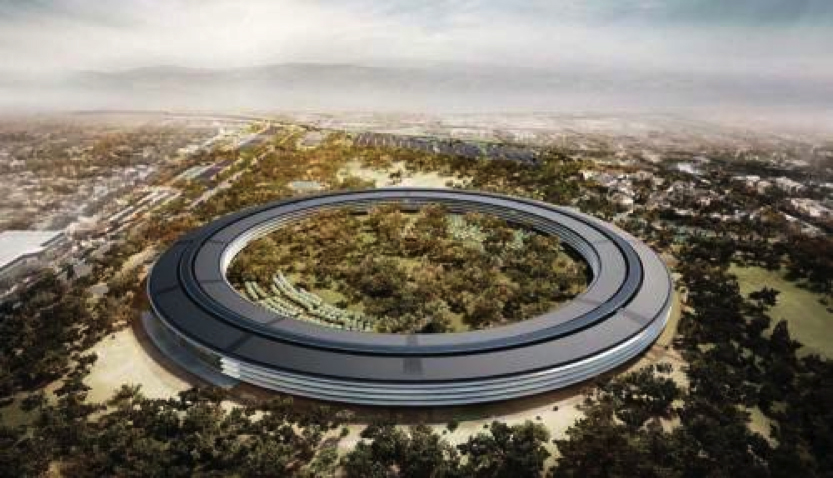 Back in September most of the architectural critics who weighed in on the issue expressed a one-two combination of shock and disappointment. Precisely because of Apple's design bona fides and Sir Norman Foster's involvement as the lead architect, they were expecting better. Christopher Hawthorne of the LA Times called it a "retrograde cocoon," marking it down as a car-centric, "doggedly old-fashioned proposal." Paul Goldberger of The New Yorker didn't pull his punches either. He mocked the building as a "gigantic donut" that was "scary" in its lack of functionality and human scale. Though he typically will not judge an unbuilt design based on renderings, in this case Goldberger felt he must: It's said that Steve Jobs considers this building to be a key part of his legacy, which would be unfortunate, because it would mean that his last contribution to his company might well be his least meaningful.
Despite these cries from the box seats, a revised design that was released in early December didn't change much from the original. Like the drawings first publicized this summer, the latest renderings depict a vast ring building set within a dense grove of trees. The new design has a darker roof and a more articulated elevation, clad with larger panels of gently curved glass. But the general form and program remain the same. Comprising a total area of 2.8 million square feet, its circular structure will house 13,000 employees and include a thousand-person auditorium for corporate events.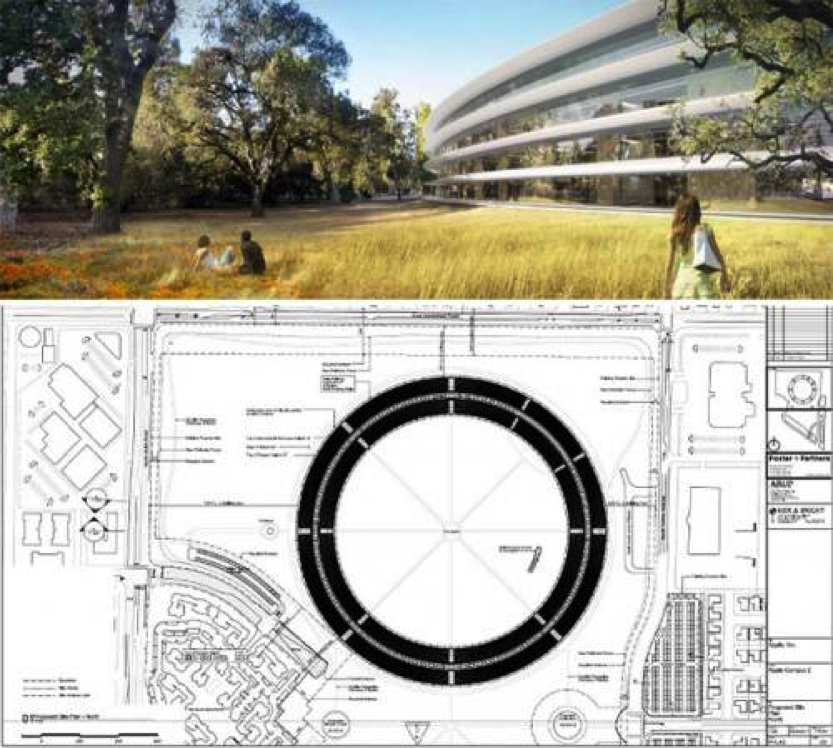 A RENDERING AND A PLAN VIEW OF APPLE'S PROPOSED CAMPUS. (COURTESY FOSTER + PARTNERS)
The utter naïveté of the form from an architectural standpoint may explain why the critics are so disturbed. How could such a big-name architect like Norman Foster, known for his pitch-perfect modernism and finesse, have generated such an inefficient plan? Could Jobs possibly be behind it? Jobs, for his part, only went so far as to call his campus a "space ship" at the local town hall meeting in June.
With little explanation to go on, neither Hawthorne nor Goldberger connected the design to its most obvious reference: Zen Buddhism, one of Steve Jobs' life-long pursuits since his early days at Reed College. It's conceivable that the campus plan was handed to Foster by the Apple CEO himself in the form of a simple circle of ink on rice paper.
The ensō, or "circle," is perhaps the most enduring motif in the Zen tradition, one that first appears in Japanese monasteries in the mid-1600s. The Zen circle is not a linguistic character, but rather a symbol that conveys a host of things—the universe, the cyclical nature of existence, enlightenment, strength, and poised contemplation. It suggests the Heart Sutra, which explains that "form is void and void is form," as well as the path to Bodhisattva-hood.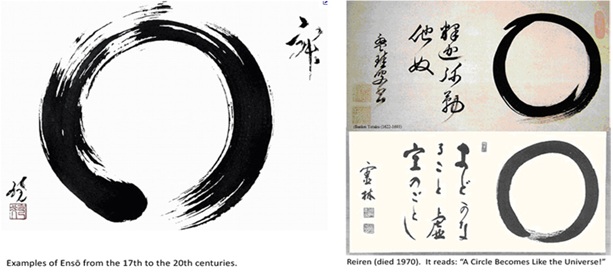 THE ZEN CIRCLE.
More importantly, the very making of the circle acts like a Rorschach test. As an expression of a moment then the body and spirit most freely create, and in the full sweep of a single brush stroke, the character of the devotee is fully exposed. In each ensō is the trace of spiritual realization.
For those who know the life of Steve Jobs, this has special meaning. While still in college, he devoured books on Zen and was transfixed by one class in particular: calligraphy. As he discussed years later, "It was beautiful, historical, and artistically subtle in a way that science can't capture, and I found it fascinating." And it was in 1975, after a less successful stint in India, that Steve Jobs –always torn between tech and the spiritual path–deliberated moving to Japan to enter a monastery. But the Zen master Kobin Chino Otogawa (who would later preside at Jobs 1991 wedding) persuaded him not to don the monk's habit and instead make technology his vocation. Jobs started Apple in April 1, 1976.
This personal history and the particular dimensions of the campus circle leave little doubt as to the connection. For a man dying of pancreatic cancer, Jobs was greatly involved in the campus design. He personally presented the project to the Cupertino town council, his last major endeavor as CEO.
It is in their painted ensō and attendant poetry that monks over the centuries have each conveyed their own final testimony on enlightenment. This campus is Jobs', and there are many personal touches. It is graced with thousands of fruit trees –cherry, apple, apricot, and plum trees that have been placed to offer a sense of perpetual bloom through the seasons.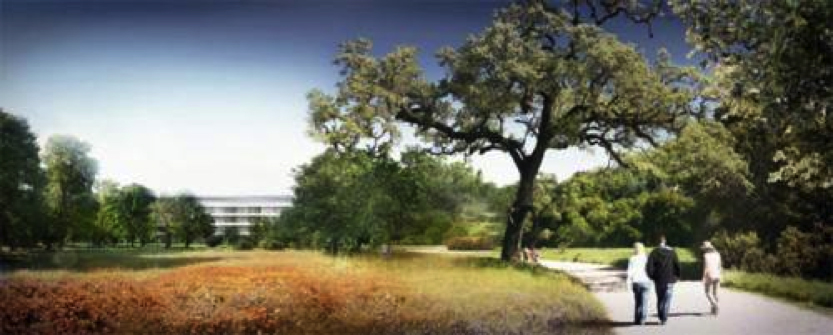 A RENDERING OF APPLE'S PROPOSED CAMPUS. (COURTESY FOSTER + PARTNERS)
As Forbes magazine breathlessly described it:
In late February, around the time of Jobs' birthday, the show will begin. Pink and white plum blossoms will appear on stands of trees at the center of Apple's new campus, hinting at more to come. A few weeks later cherry trees scattered strategically along walkways and at the edges of open glades will start to blossom.
Fruit trees held a great deal of meaning for Steve Jobs, tying back both to his formative teenage job as an arborist on the Friedland farm and his early diet as an Ehret fruitarian at Reed College.
The renderings don't do justice to this aspect of the landscape design, nor do they offer any glimpse of the interior courtyard. Inside the vast courtyard, employees will experience not just gardens, but also a fountain, an open-air amphitheater, and a dining terrace set beside among apple orchards, a grove of apricot trees, stands of plum and cherry. Void or no void, it's pretty glorious being on the inside of the Zen Circle of Steve.
This bountiful but hidden world reminds me of two Zen paintings in particular, both of which are unique in the history of the art form, in that they have writing inside the usually empty circle. The first was done by Namtembo, a Zen roshi ("master") who lived from 1839 to 1925. Writing inside the circle he declares: "Within the spinning circle of life we are born. The human heart too should always be kept round and complete." The second is by Isan Shinko, an 18th century master, which has the symbol for heart inside the ensō and reads: "Keep yourself firmly centered inside here and nothing will be able to shatter you."  The two messages suggest two rather different ways to cope with the outside world. One is expansive, the other more cautious.

ZEN PAINTINGS WITH TEXT INSIDE THE CIRCLE.
Like most people, Steve Jobs had those characteristics, and his company has those traits as well. Apple products seem to strive for "Beauty," in all its old-fashioned, capital-B form. In using them, you experience a visual elegance and richness of experience unmatched by most other consumer items. You feel their innovation and joy, and they fill you with a round and complete heart.
As Jobs himself said nearly twenty years ago in a Money magazine article: "Being the richest man in the cemetery doesn't matter to me … Going to bed at night saying we've done something wonderful… that's what matters to me." But as a corporate entity, Apple is also known as secretive and distancing. It has a closed garden philosophy. Like its founder, it often works a "doesn't play well with others" vibe that could feel downright obsessive and reproving. Inside its shatter-proof ring of enlightenment, it's got no time for us sorry-sack laymen.
As Jobs once said, "I'm as proud of what we don't do as I am of what we do." Yes, excellence requires focus, and as Jobs was fond of saying: "People think focus means saying yes to the thing you've got to focus on. But that's not what it means at all. It means saying no to the hundred other good ideas that there are. You have to pick carefully."
Of course, unlike the delicate washes of ink and water that comprise a Zen ensō, the new Apple campus is an actual building. It is a Zen circle, but it is also a cenotaph. Like Étienne-Louis Boullée's famous unbuilt cenotaph to Newton, this building will honor a man who is buried elsewhere. Both are symbolic of the universe. Both are strange monuments to bold innovation. When designed, Newton's cenotaph was, as Jobs described his new HQ, a space ship, otherworldly by every 18th century definition of the term.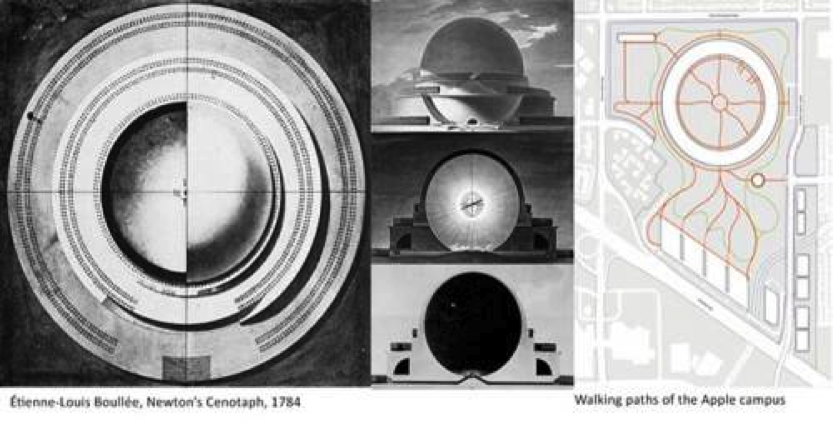 NEWTON'S CENOTAPH (LEFT) AND THE WALKING PATHS AT APPLE'S PROPOSED CAMPUS (RIGHT).
There are even similarities in the plan, though the Boullée design has rings of trees around an enclosed sphere, while Foster's campus has a ring building enclosing a vast grove. Newton's cenotaph has lines of trees that would skirt processional roads. Apple's plan bulges with thick groves and a light improvisation of threaded paths. Both designs honor men who were social misfits in their youths but who strove for such excellence as adults that they were lauded on a near-global scale well before their deaths.
Of course there's nothing more "un-Zen" than a cenotaph, the most brazen act of defiance against life's impermanence. But that is part of the contradiction of Jobs, or indeed any business person with spiritual leanings. His friend Dan Kottke playful poked fun at this schism in a letter sent to Jobs as early as 1977 and published in Businessweek:
After performing an extensive prana to the lotus feet of suchness, gaze lovingly upon picture with cosmic thoughts of cosmic relevance and profundity until phone rings. Answer phone, haggle furiously, and refuse to sell for less than $2.3 million.
In the end, Jobs seems to pull it off. The words of his commencement address to the Stanford class of 2005 would take on greater resonance years later when it is clear he had, at the time, actually been fighting pancreatic cancer for nearly two years:
"Almost everything–all external expectations, all pride, all fear of embarrassment or failure–these things just fall away in the face of death, leaving only what is truly important. Remembering that you are going to die is the best way I know to avoid the trap of thinking you have something to lose. You are already naked. There is no reason not to follow your heart."
You can't get more Zen than that.
Stollered 2.0: Ezra Stoller's Lessons for the 3D Architectural Renderer
Fighting the crowds of Chelsea's art scene last Thursday, I had the good fortune to see the recent Ezra Stoller exhibition at Yossi Milo Gallery, on view until mid-month. It was the first time in many years that I had confronted Stoller's iconic work in a gallery context. His last show occurred in 2002, two years before his death, so I was eager to see an expansive new showing.
The work still impressed. In addition to a few delightfully obscure pictures, all the lionized depictions of Wright, Mies, and Corb masterworks were there in full force, offered like sacraments to the communing public. Hovering above the hipster masses and their murmuring hum of opening night chatter, the arrayed work voiced a proud and surprisingly confident "Gloria in Excelsis Deo" for the cause of high modernism.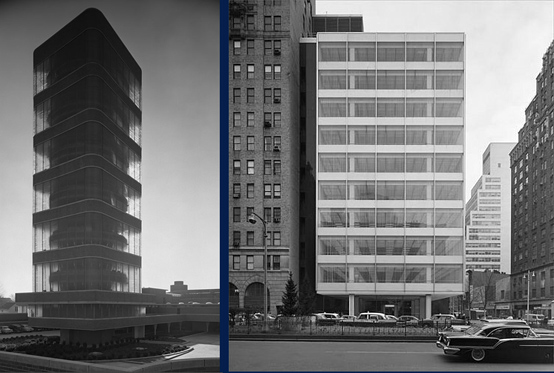 As has it has so often been said, so influential was Mr. Stoller's work that many prominent architects of 50s and 60s didn't feel that a building was complete until it had been ''Stollered." In his own time, his photos would mediate the public's understanding of a modern building; now they are the hermeneutical scrim through which we judge an era. This conflation of modernism and his individual technique can be found in the very title of a 1990 book celebrating Stoller. The book is called "Modern Architecture." But a lot has changed since 2002 when the maestro's work was last publicly exhibited, and I left the show with a distinct impression. On the one hand, architectural photographers are –for the first time-- aggressively moving away from Stoller.
Recently, we have seen the ascendancy of Iwan Baam and others like Frank van der Salm. Their work is perhaps the most pronounced critique of "Stollering" a building since the ESTO founder and his contemporaries first defined their approach forty years ago. On the other hand, assessing architecture's visual discourse in totu, it is also clear that Stoller's approach is having a pervasive and ever growing influence over pre-built visualization. As computer graphics have replaced watercolors or gauche in digital illustration, traditional delineation methods have been replaced by the tactics of the photographer. Stoller still has a lot to teach us.
Dutchman Iwan Baan took up architectural photography five years ago but he has already shaken up the industry. Something of an intellectual protégé of Rem Koolhaas, he became involved in one of OMA's website projects on the history of Europe and later started shooting the firm's built work. Baan's work is best recognized for its cheeky casualness and gentle de-bunking of the iconic. We see the lived "use value" of a building privileged over its aesthetic apotheosis. His egalitarianism and love of "messy life" may be ideally suited to an era when architects like Koolhaas or Diller Scofidio Renfro see their projects as "performative" or programmatically flexible incubators -- as "open systems" meant to absorb, route and harness the vast social energies of our fast-moving 21st-century cities.

As a generation schooled in the 70s, these now dominant "starchitects" imbibed in the style-free, fun-city epiphanies of the Situationists and Archizoom. They have a healthy regard for the self-actualizing possibilities of the urban milieu, coming of age when "artistic youth" relished the cheap rent and creative abandon of emptied cities like "drop dead" New York and the boot-strapping municipal practices of places like Rotterdam. They also had seared into them that Deleuzian distrust of closure and equipoise, preferring allusions to radical continuity and self-organizing systems. It makes perfect sense that a photographer like Baan would tap that current of their work.
As a New York Times article on Baan last year described:
For decades magazine editors, developers and architects themselves favored a static style of photography that framed buildings as pristine objects. Mr. Baan's work, while still showing architecture in flattering lights and from carefully chosen angles, does away with the old feeling of chilly perfection. In its place he offers untidiness, of the kind that comes from real people moving though buildings and real cities massing around them.[1]
In the following comparisons of both museum and residential projects, one can see Baan's "backgrounding" of the building in favor of idiosyncratic life pursuits.   Preparing for this Breuer residence shoot, Stoller spent hours stacking wood to create a textural counterpoint to the home's abstraction and compositional balance. The open casement window is there to register a "perfect" shadow and reaffirm the taut flatness of the façade itself.   In contrast, Mr. Baan's conjures a "point and shot" pragmatism with an eye for social interaction. His image for a Fujimori house in Japan appears to document a family and only tangentially their new home.

Whereas Stoller famously demanded a client to leave his home for three days while he shot the man's house, you can almost imagine Baan befriending his clients, sharing meals, and sleeping in a duffle bag in their den in order to capture their early morning breakfast in its verité splendor.   If you follow his work, this is not so outlandish. In a recent interview, Baan declared point blank: "The architecture is really a backdrop in these images. That's how I approach architecture photography all the time." [2]
While photographers like Baan promote a knowing informality, Frank van der Salm employs a soft focus and a love of color. There is often a certain pleasure of ambiguity or elision to be found in his shots. Technically, they stand in direct contradiction to Stoller's privileged singularity, deep focus, and full field clarity.   Whereas Stoller's idealizations declare each act of construction a unique achievement, van der Salm conveys a toy-like quality to his buildings.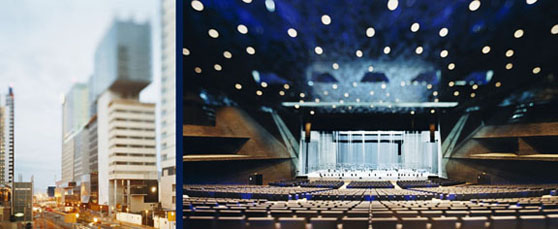 His photos inspire less awe and more the smile of bemusement.     Far from heroic, built culture is reduced to a trail of replicas, impersonal scrims, and hazy urban aggregates.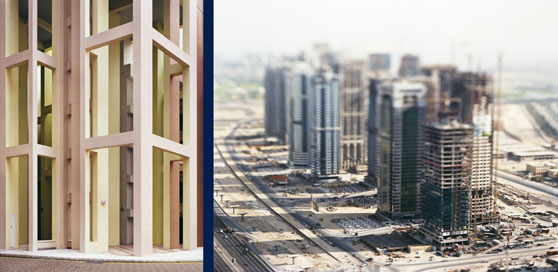 Instead of the closed rationality of the all glass façade celebrated by Stoller in his Manufacturer's Bank (BELOW to the left), Salm's offices often project nothing more than unending abstraction and quantum bursts of light (BELOW to the right).

In contrast to a strident Stoller or approachable Baan image, it is the pervading emotional distance in van der Salm's work which makes it so interesting.   It conveys an architectural photography that has gone sick, bloated –and dare I say disappointed-- after a long property binge.   ---- So, what do we make of this change? Is architectural photography going through its own belated crisis of confidence? It's hard to say. Baan's informality is generational; it can be seen in all aspects of society these days. In architecture, it can be found in the open plan island kitchen, the spunky anagram firm names (WORK, SHOP, RSVP), and the pervasive strategy of "high concept meets cheap materials" that many young designers now employ.
Frank van der Salm's work is far from casual and is actually far more "impersonal" than Stoller's. There is an aura of disenchantment to his work, a sense of impasse that would have been called "post-modern" twenty years ago. And, more broadly, perhaps too much can be made of this "split" between Stoller and this new generation. Some of Baan's images clearly operate with Stoller's approach clearly in mind. At the show, there was an Ezra Stoller shot of the Seagrams –a cheeky high/low mash-up that reminded me immediately of Baan's Cooper Union imagery (SEE BELOW).     But clearly, there is a change a foot.
The conventions of architectural photography are changing in earnest after several decades, and something has fundamentally shifted in the visual environment we inhabit. The digital revolution has of course altered the job description of a professional photographer. With 5 billion photos uploaded by amateurs to Facebook each and every day, what is it to be a photographer? With sumptuous CAD renderings often in existence well before the building, what is it to be an architectural photographer? --- Since Ezra Stoller's last show in 2002, there has also been a minor revolution in computer-generated architectural rendering. Besides the generative and algorithmic advancements in modeling, the bi-directional "global illumination" lighting capabilities of the software have created a whole new threshold of photo-realism.   The Phong shading and raytrace techniques of CG in the 90s often forced the illustrator into a more "illustrative" style, more dependent on strategies lifted from watercolor illustration. Truly photorealistic images were crafted but they were so labor intensive that commercial viability kept them from really saturating the market place. Then a series of rendering softwares exploded upon the marketplace –finalrender, Vray, ---to supplement the more limited capacities of the 3D Max and the other 3D modeling packages. These new tools created extremely photorealistic images, ones that competed very well with "real" photographs. Suddenly pre-built renderings seemed to trump the post-built photos in their sensuality and the suggestion of architectural intent. Their employ became the dominant strategy for marketing high-end condos in the go-go years of 2004-2008.
Computer graphics replaced the "singularly constructed" hand perspective with software-embedded protocols that essentially mimic photography. Like a photographer, the renderer now "stalks" his virtual building with an unlimited collection of cameras, calibrating his aperture and focal point, and exploring all variations of sunlight at will.
So, with that in mind, what does Stoller offer this new generation of architects and renderers? A new cadre of imagists that produce all that beautiful pre-built imagery that now competes with photography for magazine space? I have set out the following list:
1. Tone
Look closely at these two interiors for Breuer and Kahn.

Both photographs are taut visual documents, taking the clipped geometry of the spaces and "sensualizing" them in a rich spectrum of blacks, whites and warm grays. You can almost feel a distinct mix of the neurons firing. First there is the "spatial emptiness" that triggers a sense of spirituality. Then there is the "tonal maximalism" –a chiaroscuro that excites eye with its wild variation.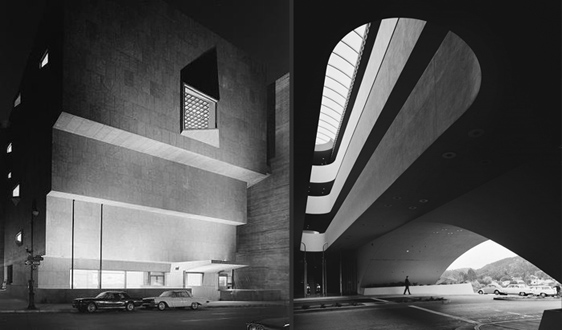 In Stoller's hands, black and white was less a restriction than an opportunity, its sobriety a way to keep the viewer focused on geometry washed in multitudinous light. Two things to remember: activating so many surfaces with light, Stoller was sure to keep the angle of sunlight in a way most legible to the viewer. He also uses the brightest light in the farthest sections of the picture. This creates a dark-to-light tone that helps further the depth procession. The Russian director Andrei Tarkovsky employed a similar technique, establishing depth through tone and offering three distinct foreground, midground, and background zones in his films. Like Stoller, he usually kept to a deep focus across the entire image.
What are the lessons for the architectural renderer?
Don't be afraid to reduce the color palette of their work to allow the viewer to experience tonal variation. Use the dark to light variation to carry the viewer's eye into the space.
2. Time
Stoller once famously said that ''photography is space, light, texture, of course, but the really important element is time --that nanosecond when the image organizes itself on the ground glass." Yes, the culminating nanosecond. But if you looked at Stoller's own process you would see a different notion of time. He was famous for drawing out floor plans and stalking the building for days, marking out locations and charting out sunlight patterns. Based on these assessments, he would then schedule out times to revisit each location at different times of day. It was hard work meeting the serendipity of the sun. He took his time and was sure to explore all possibilities.
In CG, the illustrator has the virtual convenience of placing multiple cameras of varying locations and setting sunlight. Ironically, though the architectural renderer avoids the schlepping of heavy equipment and rain days, he/she can often be quite lazy about light and camera placement. Keep Stoller's dogged approach in mind and set aside a full night of animating camera placement and sun angles. In the morning, you can review all the possible images, reduce the pile to a few choice selections, and print those out. Once printed, hang up your favorites and distract yourself with other work. With the right amount of time transpired, you'll find that you'll see their strengths and weaknesses far better than the night before.
3. People and Entourage
Stoller once said, "posed people are an embarrassment."[3] The photographer maintained a clipped style and sparing use of entourage. He avoided the cloying artifice occasionally employed by his contemporaries. Even the great Julius Shulman was prone to work a gimmick –i.e the faux tree branch of beside the Case study house. Stoller, however, was more exacting. Stoller's people offer scale and always heighten conceptual appreciation. His modernist's sense of zeitgeist can often be seen in his choices of entourage.
In his shot of Johnson's Amon Carter Museum in Fort Worth, the older woman with her foppish out-of-date hat is an amusing foil to the modern building she stands under. With her brittle frame and ornamental feathers, she appears utterly obvious to the crushing weight and stripped clarity of the truss above her. Likewise, there is a distinct existential impression made in Myron Goldsmith photographs. A single man stands at the edge of water, land, and air. The structure hovers above him, itself an distant elemental force.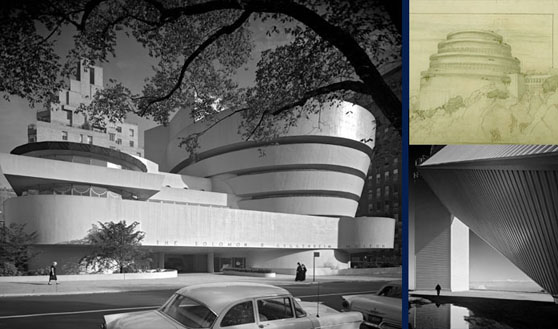 Perhaps the most famous example of Stoller's handiwork: the two nuns walking in front of the Guggenheim. Their dark habits are a tonal counterpoint to the white heat of building itself. As a signifier, their role is doubly interesting. Their presence invokes an inherent religiosity to the Museum, but it also forces a secular recognition of the "new era" that has arrived. Even the other person in the shot is perfectly situated. In full stride, her left foot aligns with a sidewalk line and stands at the commencement of the building's own curl. It's so perfect that it is hard not to think it was staged. A renderer with the luxury of placing people at could have done better. What to make of the car in the foreground, with its rounded body and warm splashy shadows? A microcosm of Wright's own sumptuous machine, it may well be Stoller's allusion to the museum's own conceptual forebear, the Gordon Strong Automobile Objective and Planetarium. The photographer would have been well aware of that 1924 proposal for a Blue Ridge tourist site.
4. Clarity and Flatness
In his 1990 book, William Saunders described the "Stoller spirit" as a drive to "find the essence" of a building. According to Saunders,   "He had a pretty deep appreciation of the kinds of strengths of modern architecture: simplicity, proportion, balance."   He celebrated the rationality of modern architecture. One will often see a focus on the structural logic of a building --the unique backlit Johnson building is a choice to underscore its cantilevered weight instead of its wrapped skin. In the following Park Ave shot, there is a wonderful appreciation of the building as a taut abstract volume. It stands like a cool glass of water. Stoller shared an intellectual kinship with the designers of his generation.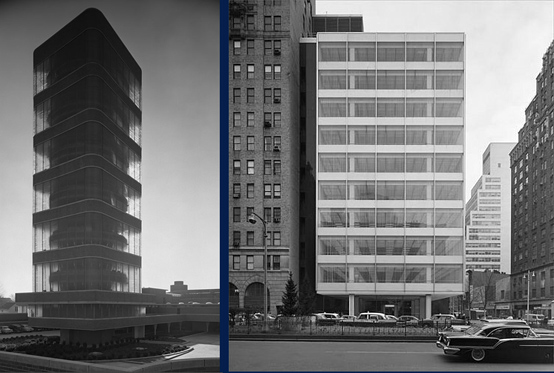 As a student in New York, he had been seduced by a course in mechanical drawing. ''I was fascinated by interpreting the three-dimensional world in two dimensions," he later recalled. In heightening the modernist ideal of abstraction, he would fall back on this instinct and employ a "flatness" in his photography. It was a way to forces the eye to the simplicity and clarity of the design, often counterpoised to the hubbub of crowds or the surrounding cityscape. He would do this by employing the "one point perspective" to convey a building's logic and order. This inclination may have also come from an earlier inspiration.
For his 21st birthday, his future wife Helen Rubin gave Ezra a book on Eugene Atget. He recalled the event as the precise moment when he wanted to be an architectural photographer. He liked Atget's deep one point perspectives of streets and his flat shots of storefronts. The use of reflections on storefronts to convey both what is behind and in front of the viewer intrigued the young man.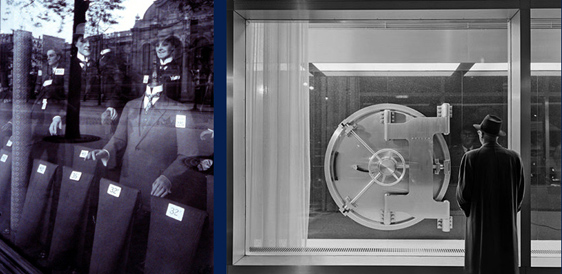 Stoller employed that flatness and power of reflections in a number of photographs, though none is as famous as the vault shot of the Manufacturer's Hanover Bank. There is a man facing the bank vault. Aren't vaults to be kept hidden? Based on his reflection, he appeared to be perplexed at this radical transparency. Stoller uses this everyman to convey the intellectual frisson that this new architecture creates for the viewer.
[1] www.nytimes.com/slideshow/2010/01/24/arts/20100124-BAAN_index.html [2] www.fastcodesign.com/1662463/meet-iwan-baan-the-worlds-premier-architectural-photographer-slideshow#5 [3] William Saunders: Modern Architecture: The Photography of Ezra Stoller, 1990, p 11
The Face and Future of Vertical Farming
--Writ Large via 3D Max Vegetation Plug-ins Dick Despommier's The Vertical Farm: Feeding the 21rst Century is a delightful,  extended book version of his earlier essay on the topic.  It explains the many benefits of intensive "vertical farming,"  a timely topic as the world continues to cope with food inflation and explosive demographic growth. With South Korea and Saudi Arabia buying up farmland in places like Madagascar and Ethiopia, and water depletion pervasive throughout China, this book offers an interesting "technological solution" to the issue of land shortage and misuse.  The unbuilt architectural designs profiled in the book are made compelling by their renderings.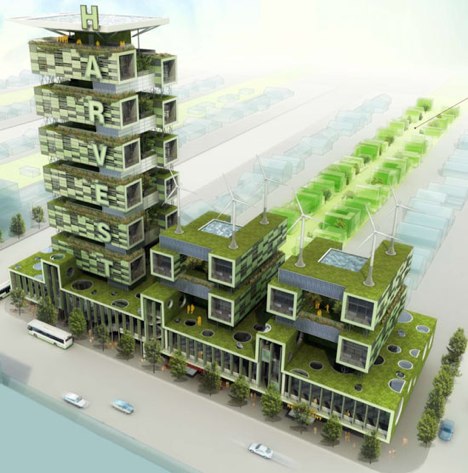 These architectural illustrations are almost entirely CGI --3D computer graphics that are heavily depend on the latest vegetation plug-ins.  This sensual component of the book is very important.  One could argue the book would not have been doable --i.e. commercially viable ten years ago-- precisely because those vegetation plug-ins did not exist.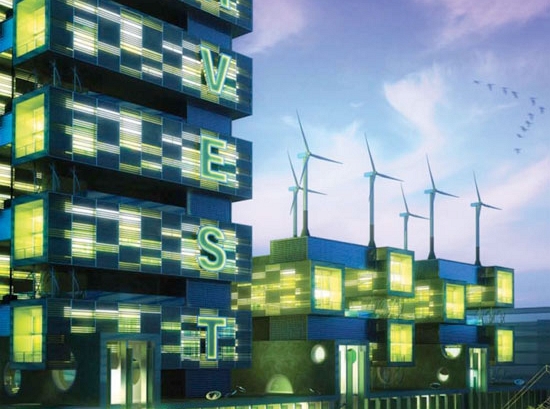 As Despommier suggests, vertical farms could enable every nation in the world, regardless of water availability or agricultural land, to be able to grow food in a sustainable manner. The book can be purchased at: www.amazon.com/Vertical-Farm-Feeding-World-Century/dp/0312611390/ref=sr_1_1?s=books&ie=UTF8&qid=1285024918&sr=1-1